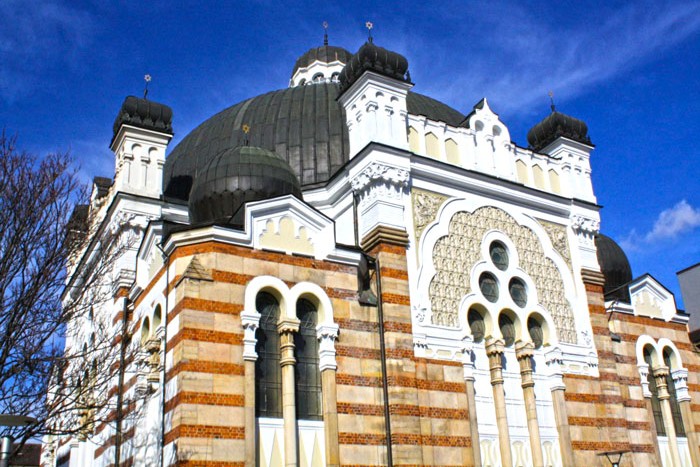 Sofia sightseeing introduces an elegant 'lady' called the Sofia Synagogue
Another site on the Sofia sightseeing list – its Majesty the Central Synagogue of Sofia. It is the largest one in the Southeastern Europe. It's a functioning synagogue and there is another functioning one in Plovdiv. In Europe the Sofia Synagogue is the third-largest.
The synagogue is also known and described as the pride of the Bulgarian Jewry. It's been constructed under the project of the Austrian architect Friedrich Gruenanger to meet the need of a worshipping place for the Sephardic Jewish community in the capital of Bulgaria. It was built between 1905 and 1909. After four years of construction, financial crises, and much communal debates, the Central Synagogue was finally opened and consecrated on September 9, 1909. The first preparations for making it, though, started in 1903 and the construction itself started in November 1905. It is located in the centre of Sofia, right next to the Tzentralni Sofiyski Hali (Central Market Hall). The Gruenanger's synagogue was intended to be a small replica of the synagogue in Vienna and it really resembles it. It is a Moorish-style worshipping place.
The synagogue is very big and it holds over 1000 people. However, due to the moving of most Bulgarian Jews to Israel (to make aliyah) and the secularization of the local community, only about 50 – 60 people attend the services.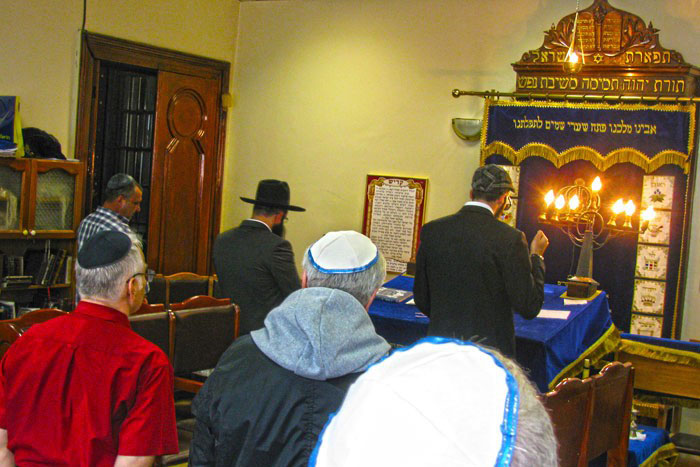 Bulgarian Sephardic synagogue tradition
As the Bulgarian Sephardic synagogue tradition is, one enters through a large, quiet courtyard. When you are at the synagogue (as a Sofia sightseeing) and you go inside, you can see how rich the interior is. There are columns of marble and multicoloured Venetian mosaics. The decorative woodcarving is another thing to be marvelled. The famous brass chandelier weighing over 2200 kilos (the biggest chandeliere in the Balkans is there and the rumor said it is made from gold from Ancient Palestine) can be seen inside. The large candelabra (Heb. menorah), and other decorations were imported from Vienna as well.
The Sofia Synagogue features a temple and a library. Since 8 May 1992 the Sofia Synagogue also houses the Jewish Museum of History, which includes the Jewish Communities in Bulgaria and the Holocaust and the Salvation of the Jews in Bulgaria expositions. There is also a small souvenir shop in operation inside.
The 'Square of Tolerance' and Sofia sightseeing
The capital of Bulgaria, Sofia, is a great example of how three different religions can co-exist and tolerate each other. As mentioned earlier, the Sofia Synagogue is located in the centre of Sofia. In close proximity are the 'Banya Bashi' Mosque, the 'St. Joseph' Catholic Cathedral and 'St. Nedelya' Orthodox Church.
Choose that Sofia sightseeing and see it yourselves!
We are specialists on tours Sofia. For more Sofia guided tours please contact us with the size of your group for a free quote with no-obligation.